Redness-prone skin isn't anything to be ashamed of, even though it has to be admitted that flare-ups are often mistaken for a sign of embarrassment. Without a doubt, this skin type is pretty demanding and it's hard to live up to its needs, yet it doesn't mean that it can't look good.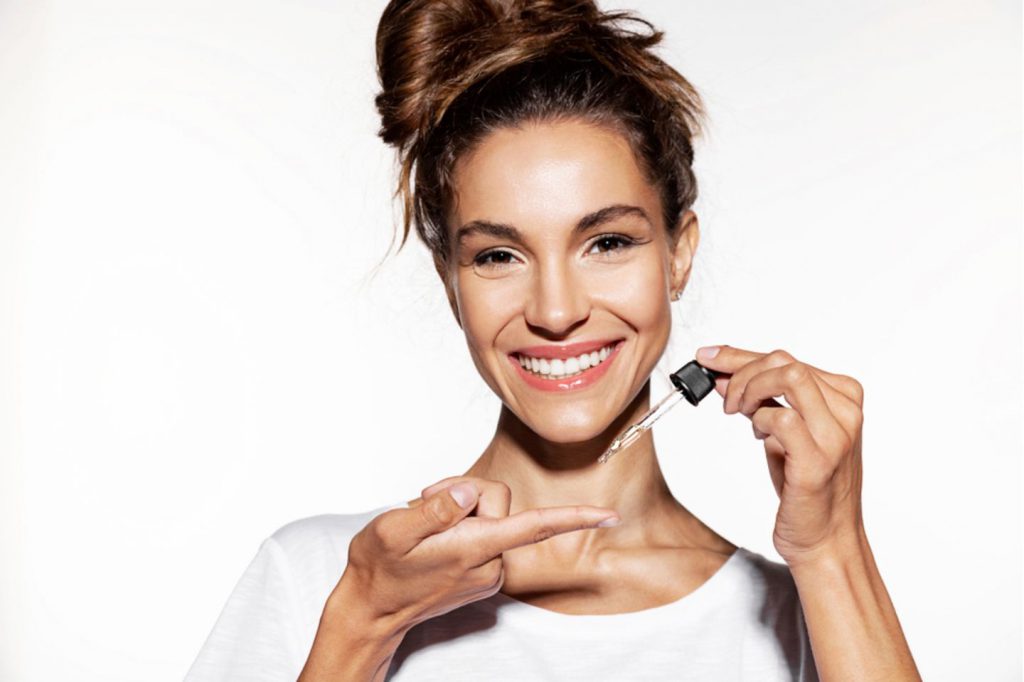 Finding the right treatments and matching care products bring you closer to achieving this beauty goal. See the evergreen anti-redness face serums – the ones that keep receiving positive reviews from its users.
Redness-prone skin – a few care tips
What's the requirements that you need to follow to satisfy the needs of redness-prone skin? Below you will find a few tricks that aid you in reducing facial redness and dealing with the sensitive skin problem.
Always choose beauty products that are designed for your skin type! They are formulated with the substances responsible for bringing relief and increasing skin's defensive mechanisms.
Reach for a high quality anti-redness face serum. Only this product penetrates skin deeply to strengthen the walls of blood vessels.
Use a cream with high SPF throughout the entire year. In the summer go for SPF 50.
Hydrate your skin from the inside by drinking mineral water, and from the outside by applying moisturizers.
Cut down on or even completely resign from eating spicy foods and drinking hot beverages.
Anti-Redness Face Serums: See TOP 7 Evergreens
1. Nanoil Anti-Redness Face Serum; 50 ml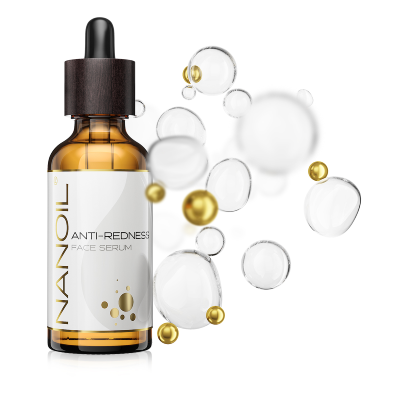 Nanoil anti-redness serum is a cosmetic that continuously receives many positive reviews. It also belongs to the best-selling soothing skincare products. If your friend hasn't recommended it to you yet, we will do it! Just imagine your skin being free from redness, this uncomfortable burning sensation and spider veins that spread across your face forming nets of vascular threads. This is exactly what you can get using Nanoil Anti-Redness Face Serum. Actually, you can get a lot more because the ingredients used in this product soothe skin and shield it from irritants. Additionally, this serum evens skin tone and slows down ageing. In general, this is a do-it-all product that proves that redness-prone skin can be good-looking!
2. PCA Skin Anti-Redness Serum; 29,5 ml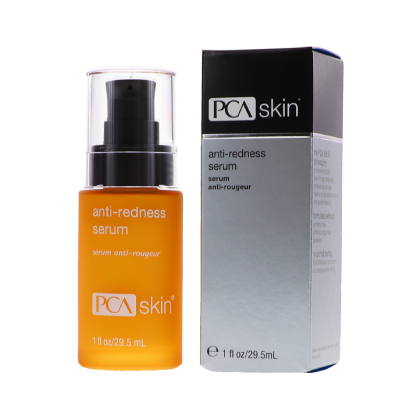 PCA and its anti-redness serum is labeled as a professional beauty product that reduces facial redness, offers gentle care for sensitive skin and provides protection from irritants. Its formula isn't ordinary because it contains intriguing ingredients such as red and brown algae, and capparenols extracted from caperbush. The former blend is responsible for bringing relief and improving the general appearance of skin, whereas the latter focuses only on removing the problem of irritation and tight skin. PCA Skin Anti-Redness Serum also contains bisabolol, which is a soothing substance extracted from chamomile.
3. Mesoboost Capillar Day Serum; 30 ml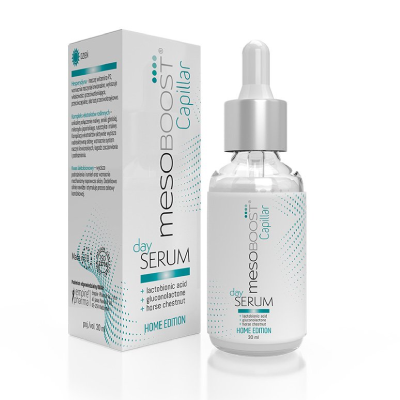 This seems to be one of those serums whose users love to review and comment about. Its formula is based on the revitalizing lactobionic acid, gluconolactone which is a strong antioxidant that also maintains moisture in the skin, as well as on a horse chestnut macerate. Other constituents are responsible for shrinking dilated blood vessels and bringing relief. Mesoboost Capillar Day Serum is really good at repairing skin and removing rosacea together with inflammations. It's recommended to reactive, couperose and redness-prone skin type. Since the formula is a little bit greasy, it's better to use the serum at bedtime only. The price may be considered too high as for a 30-ml bottle.
4. Exuviance AntiRedness Calming Serum; 29 g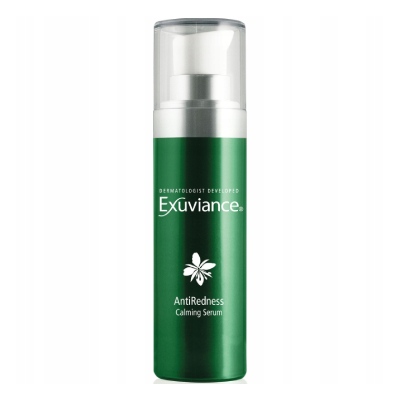 Exuviance AntiRedness Calming Serum is a good option for skin struggling with acne and rosacea. The serum was created to deal with all known types of skin inflammation. Day by day, it regenerates the epidermis and strengthens the weak walls of blood vessels, preventing the appearance of spider veins. This is another face serum whose formula is quite unusual. It's made from ingredients – Bionic complex and Tripeptide-8 – developed in the brand's laboratories. Their task is to restore the balance of sensitive and redness-prone skin. Other ingredients like willow wort extract soothe irritations and reduce the problem of redness.
5. Medik8 Calmiwse Serum; 15 ml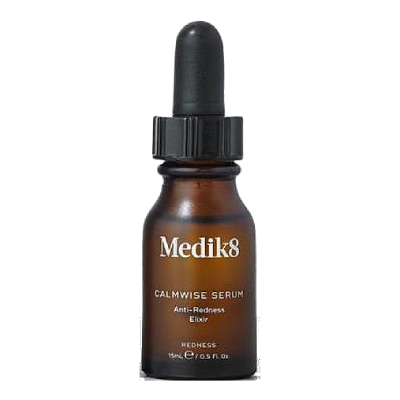 Here is another soothing face serum recommended not only for couperose skin but also for those who struggle with adult acne. Medik8 Calmiwse serum brings almost instant relief and protects the skin against external aggressors. Interestingly, Medik8 is another brand that reaches for laboratory-developed substances because in this serum you can find teprenone which is in charge of reducing facial redness and improving the appearance of skin. The formula also includes sage extract to deal with inflammation. It also has an antibacterial effect, thus preventing acne.
6. Lierac Rosilogie Persistent Redness Neutralizing Double Concentrate, 30 ml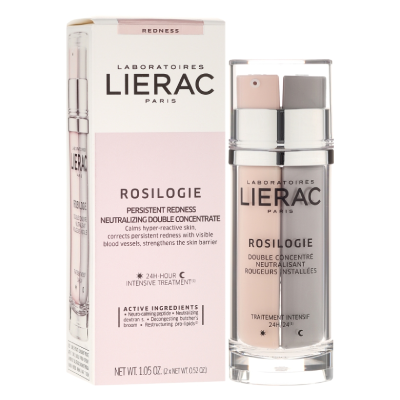 Without a doubt, this is one of the most interestingly designed serums on the market. Its bottle is divided into two chambers storing two formulas, each one dedicated for redness-prone skin. Day formula is lightweight, fast-absorbing and can be worn under makeup. It keeps skin protected to stop irritation and redness from messing with your face. The night formula is visibly richer, thus good at nourishing and repairing the skin. It helps you wake up every morning with an even-toned and smooth complexion. Despite handling other tasks, there is one ingredient that connects both formulas. It's a peptide that leaves couperose skin healthier.
7. FAB First Aid Beauty Anti-Redness Serum; 50 ml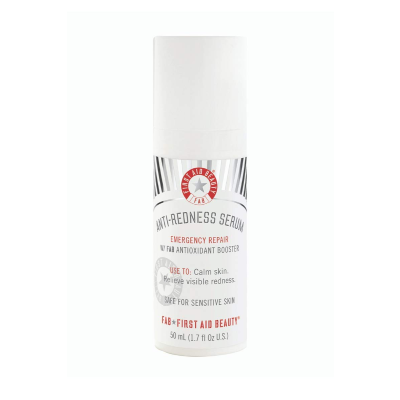 And finally the last anti-redness serum that belongs to best-selling skincare products for sensitive skin. It's made from sulfur, aloe vera and ginger to soothe the skin and reduce facial redness. Bisabolol deals with irritations. It also contains a unique substance described as FAB Antioxidant Booster. This is a combination of licorice root, chrysanthemum and white tea extracts. It nourishes and prevents dryness. Even though it's said to be designed for sensitive skin, some users claim that FAB First Aid Beauty Anti-Redness Serum doesn't serve this purpose well. The serum is big but it doesn't last long.