If you look for natural cosmetics, free of parabens, artificial colourants and SLS, but with clear, flawless formula then you should definitely direct your attention at wide gamut of products from Natura Siberica. The brand existing since 2007 gained popularity all around the world and still hits new markets around the globe. There is a good reason why so many men and women have put their trust in this brand. The composition of cosmetics is really short, products are safe and provide spectacular effects. Today, we want to introduce a unique Royal Caviar line, which rejuvenates, takes care of skin and deals with wrinkles. In the line you will find following products: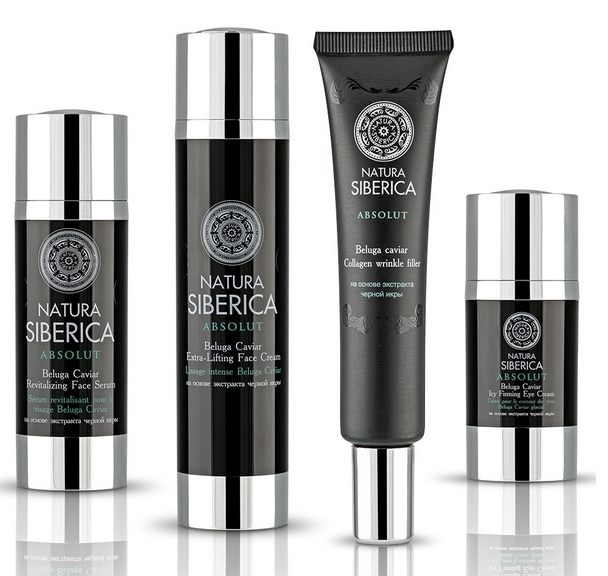 Royal Caviar Extra-Lifting Face Cream (50 ml/1.76 oz.)
Royal Caviar Revitalizing Face Serum (30 ml/1.06 oz.)
Absolut Icy Firming Eye Cream (15 ml/0.53 oz.)
Absolut Collagen Wrinkle Filler (40 ml/1.41 oz.)
Wrinkles are created because of deficit of collagen. What is more, you may even say that decrease of collagen in skin is directly proportional to increasing number of years. For this reason, truly relevant matter becomes providing skin with proper level of substances and ingredients allowing preservation of its youth and regulation of cell renewal.
Black line from Natura Siberica consists of unique regenerative complex, which base ingredient is black caviar, known for its rejuvenating properties and valued all around the world because of its diversity of vitamins, amino acids and proteins. Along with omega-6 acid, minerals, proteins and organic vegetable extracts, it nourishes skin and stimulates production of collagen in skin cells. It all is meant to make links in skin more elastic, smoother skin, flatten wrinkles and lift face contour.
Concentrated serum contains additional ingredients that heighten properties of cream: D-panthenol (strengthens cell metabolism and tightens pores), organic lungwort extract (softens skin and has anti-inflammatory properties), green tea extract (has antioxidant properties, multiplies protective mechanisms of our skin, is rich in vitamin C and E and strengthens blood vessels), and Iceland moss extract which tones skin and has antibacterial properties.
Caviar extract is great also in eye cream, because it intensively smoothers wrinkles. While added to cream organic rose water removes dark circles around the eyes and puffiness.
For ladies who require additional, stronger hit in the problem of wrinkles (e.g. laughter lines) was created filled with collagen, specialistic filler, which additionally regulates hydro-lipid skin economy. In this product, black caviar is supported with another brilliant wrinkles filler, i.e. organic sage.
The entire line has really beautiful and elegant, black packagings. That makes the line have additional aesthetic effect, because – let's face it – it is much more pleasing to reach for cream locked in an elegant packaging. Don't you feel like the manufacturer shows respect to your sense of beauty and make you believe that he wants to take care of your skin?