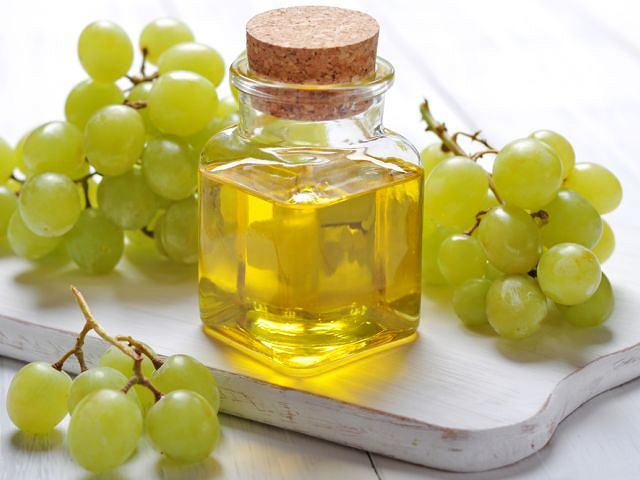 Grape oil, to be more precise – grapeseed oil, is used in food and cosmetic industry. Added to meals, it prevents blood system diseases and sclerosis, lowering the level of bad cholesterol at the same time. You can serve it cold with dressings and salads or use it for frying, baking and stewing. What are the cosmetic uses for grapeseed oil?
Grapeseed Oil
INCI Vitis Vinifera Seed Oil
Grapeseed oil – composition
Grape oil is rich in polyunsaturated fatty acids (triglycerides) which make it an ideal ingredient in products designed for dry and mature skin care. Stearic, oleic, palmitic and linoleic acids ensure skin repair. Thanks to phospholipids, grapeseed oil is fast-absorbing and leaves no greasy residue. Grape oil makes the entire body stronger thanks to four important vitamins A, D, E, K. A high concentration of vitamin E slows down skin aging. Thanks to the content of Procyanidins, grape oil-enriched products are amazing antioxidants.
Grapeseed oil: properties & beauty uses
Grape oil has a life-changing impact on both skin and hair:
delivers skin elasticity and hair bounce
protects cells from free radicals and aging
deeply moisturises skin and hair
reduces the appearance of wrinkles and hair breakage
That is why grapeseed oil is such a common ingredient of beauty products. It is used for infusing the facial creams, body lotions, massage and beard oils, and mostly for hair care products.
Grape oil has hydrating, soothing and regenerating qualities. The vitamin of youth keeps hair and skin vital and healthy. It slightly moisturises extremely dry hair ends, preventing further damage. The oil tames and smoothes flyways and static strands, increases shine. You get easier styling and brushing, protection from heat, environmental pollution and other harmful elements.
How should you use grapeseed oil?
Use this oil separately or add it to other cosmetics. If you use grape oil for hair oil treatment, two spoons will do. Rub the oil into the scalp and lengths, rinse it out with warm water and wash hair with a delicate shampoo after an hour. A leave-in conditioner is a great finishing touch.
You may as well pour some grapeseed oil to your ready-made hair products e.g. a mask or conditioner (3-4 drops are enough).
Which hair type is grapeseed oil good for?
Grapeseed oil is high in fatty acids in the following order when it comes to proportions: omega-3, omega-9 and omega-6. This is what makes it a suitable oil for high porosity hair. Highly-porous hair needs an intensive repair because it is awfully dry, damaged, brittle and dull; it falls out excessively and lacks shine.
Grapeseed Oil – Price
The price of grape oil depends on a few things: the extraction method, the bottle's material, the ingredients. To deliver beauty benefits, grapeseed oil must be cold-pressed and free from chemicals. A manufacturer should make sure that the oil comes in a dark glass bottle to protect it from the harmfulness of outside elements. An organic grapeseed oil must be rich in fatty acids, antioxidants and vitamin E. The price isn't too low if it reflects the quality.
Grapeseed Oil – Reviews
Grape oil gets good reviews among women because it 'specializes' in an in-depth skin and hair repair. Even though grapeseed oil is mostly recommended for highly-porous hair, it's going to condition low and medium porosity hair, too.