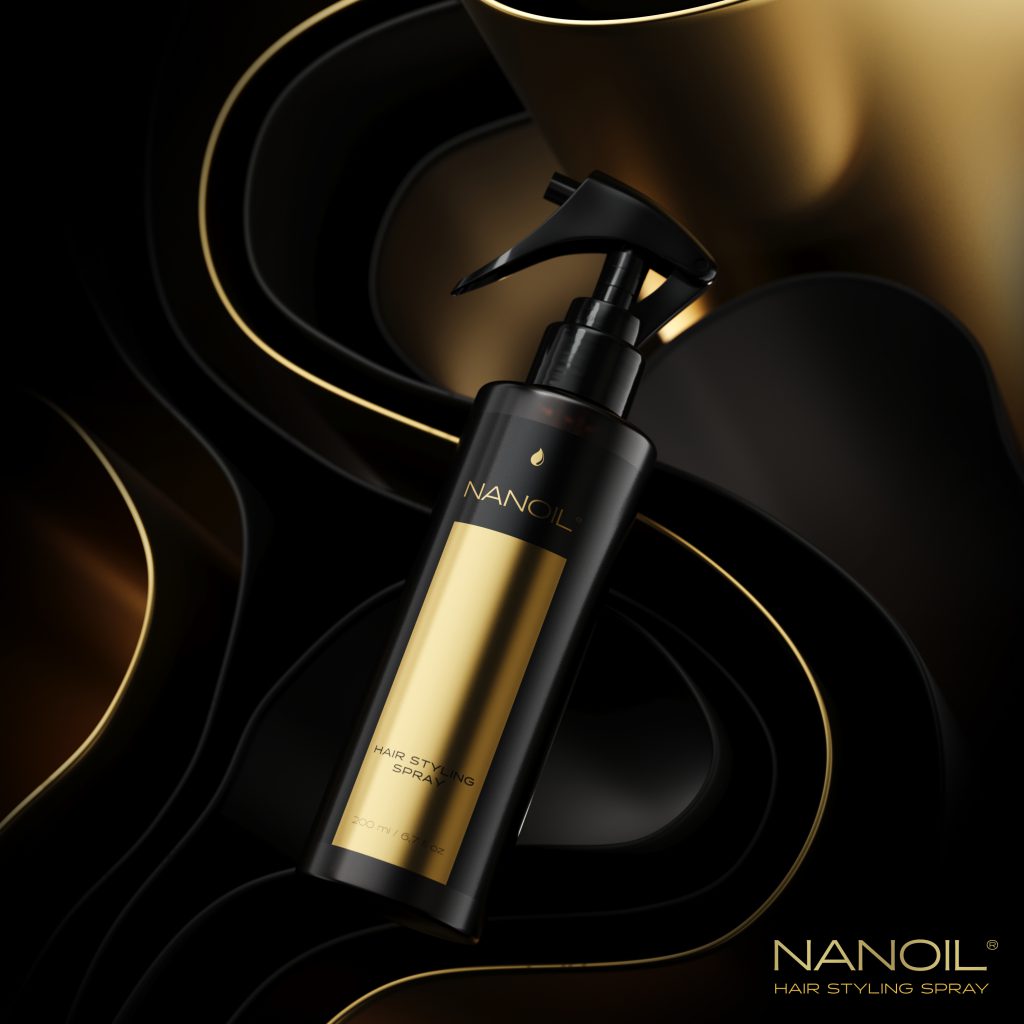 Creating an ideal-looking style that doesn't need any touch-ups during the day isn't easy. Unless you make it unmovable by applying a huge portion of a hairspray, of course. However, let's be honest here – a stiff hairdo isn't the exact effect you want to get, right? Luckily, there are some better alternatives that extend the lifespan of a style, without giving you the 80's look. One of such products is Nanoil Hair Styling Spray which is said to be a game-changer. Carry on reading to find out why it's considered an innovative hair styling product.
Nanoil Hair Styling Spray: Hairspray & styling liquid in one
We all like multi-purpose products, don't we? Products that combine the properties of a few cosmetics help us save time, money and the precious space in the tiny bathrooms that most of us have. And Nanoil Styling Spray is exactly the product! It handles two major tasks: increases hair's manageability and creates a lasting hold. This is a 2-in-1 hair product designed to tame unruly wisps. Spraying Nanoil primer over strands guarantees you creating a perfectly-looking and soft style that looks natural.
The reason why your hair's gonna love Nanoil styling spray
It really doesn't matter what type your hair is – fine, color-treated, normal, curly… you name it – Nanoil Hair Styling Spray knows how to help you create amazing styles at home. It gets even better after realizing that this product is super lightweight, which means that it doesn't drag hair down, depriving your mane of much-needed volume. Stiff and unmovable finish? Forget about it! With this styling spray your strands will look their best, no matter if you arrange them in a loose bun, create beach waves, make them sleek with a flat iron or do a cute updo. Indeed, using just one product, you can conjure all these styles that last all day.
Hair spray & conditioner in one
Nanoil Hair Styling Spray can be described either as a hairspray with conditioning function, or a conditioner that provides a lasting hold. This versatile Nanoil product is enriched with nutrients for stronger and shinier hair. What are they? Vitamin B5 is responsible for locking the nutrients inside the strands, but that's not all. It also provides damage protection, boosts shine and leaves your tresses pleasantly soft. Castor oil promotes strong hair and intensifies the color of both dyed and natural hair. Brimming with omega acids, this plant-based oil makes hair resistant to breaking, thus reducing brittleness and splitting.
Easy application for easy styling
Here comes another plus of Nanoil Hair Styling Spray, which is a super easy application. To unlock this product's full potential, you need to choose one of the following uses:
After leaving the shower, reach for a soft towel to remove excess water from the hair. Grab the bottle of Nanoil and spray your hair with it. Style any hairdo you desire.
Damp hair with water and spray it with Nanoil Hair Styling Spray. Style any hairdo you desire.
Spray your dry hair with the Nanoil for extra hold. This is how you can be sure that your style will look fabulous for the entire day.
Since Nanoil styling spray offers such a wide range of benefits, and since it can be applied in more than just one way, it shouldn't be anything surprising that it becomes a women's top-choice worldwide. Even frizz, static and dullness can be dealt with by using Nanoil Hair Styling Spray. A few-hour-long flexible hold is within your reach – visit nanoil.us and get yourself the helper you've always deserved. Arrange your hair like a professional without leaving your home and enjoy lasting results in all conditions.