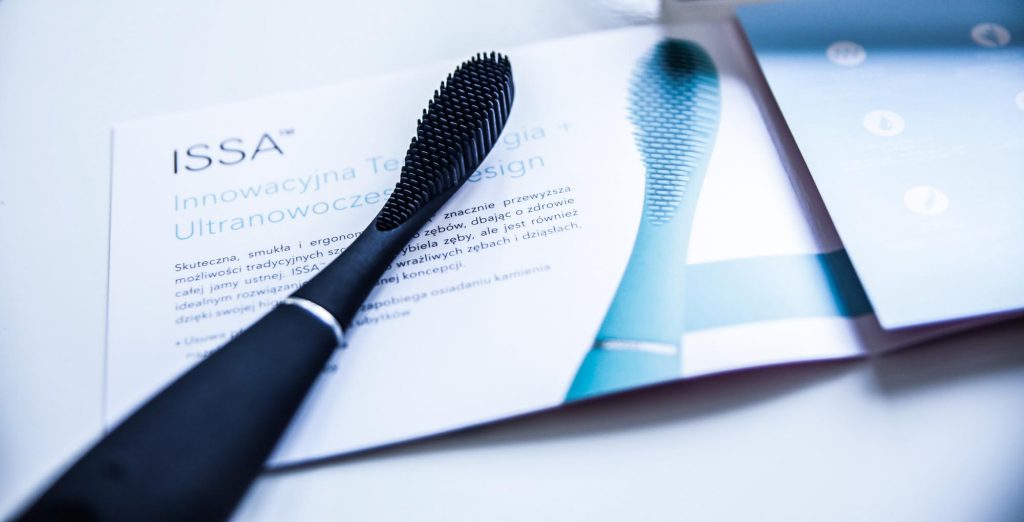 The manufacturer convince us that ISSA is more than just an electric toothbrush. And we have to admit that they are right, because already the appearance of it does not resemble any known toothbrush. Eight levels of intensity, a year of usage on one hour of charging, built-in timer, it's waterproof and generates 11 thousand of pulsations per minute – those are not the only properties of sonic toothbrush ISSA from Foreo.
Foreo ISSA is a toothbrush using the newest sonic pulse technology for more precise performance. Toothbrush made entirely from silicone makes ISSA impress not only with its unusual design, but also with more effective teeth cleanse and whitening. Silicone head has right shape for thorough cleanse and removal of tartar without damage to the gums. Silicon bristle is soft and gentle to gums, that is why cleaning teeth with Foreo is fully safe also for children.
11 thousands of pulsations per minute,
8 intensity levels,
timer for easier brushing in a right time,
365 uses after one hour charging,
2-year warranty,
10-year quality guaranty,
waterproof,
no docking station,
8 colouristic versions and unusual design.
ISSA toothbrush has an ergonomic structure, is slender and colourful, so it in no way resembles traditional toothbrushes or even other electric toothbrushes. The Foreo concept is focused on use of silicone for more gentle oral hygiene (even for children, people with bleeding gums or after the treatment of uprooting the eights). However, the combination of Sonic Pulse technology provides removal of impurities, discolourations, scale and tartar. It protects tooth enamel and prevents recession of the gums with delicate massage with silicone bristle and that is what differs ISSA Foreo from other toothbrushes.